All-in-One 3D Digital Microscope PRO-7 3D
Microscope that doesn't need a computer and saves space and money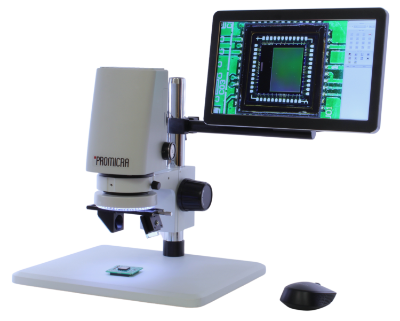 The PRO-7 3D digital microscope is a modern, economical alternative to conventional stereomicroscopes and is the ideal solution for fast and quick observation of samples and 2D measurements without the use of a computer. The unique built-in 3D attachment allows viewing the spatial arrangement of samples.
The device includes a microscope with 7:1 optical zoom, a digital HD camera, a computer with mouse-controlled measurement software, a ring LED illuminator, a stand and an integrated LCD monitor.
The PRO-7 3D microscope not only saves money, but also space on the desktop. Observation on the built-in monitor instead of eyepieces saves the user's health.
The PRO-7 3D microscope is suitable for inspection and quality control in production as well as for life science applications and education.

Example Configurations
Features
An all-in-one digital microscope that doesn't need a computer, saving space and money
Built-in 11.6″ Full HD LCD monitor or an option to connect a separate monitor, TV or projector via HDMI cable
Mouse control of device functions directly on the connected monitor
Unique spatial observation capability with 3D attachment; easy switching between 2D and 3D viewing; same center position for standard 2D and 3D viewing
Large optical zoom range of 7:1 (0.7 – 5x) with constant plane of focus and click-stop positions: 0.7x, 1x, 1.5x, 2x, 2.5x, 3x, 4x, 5x
Built-in HD digital camera with 2 MP (Full HD – 1920 x 1080 px) resolution for live view and still images
Highly fluent live view with a frame rate of 60 frames per second enables lag-free observation
Built-in computer with measuring software
Built-in HDR function
Built-in powerful ring LED illumination with 144 LEDs and smooth intensity adjustment provides homogeneous illumination of the samples
Wide range of 2D measurement functions in live view with the option of saving to images
Live view text annotations with the option to save to images
Saving images and measurement results to a connected USB flash drive
Viewing of saved images
Exporting measurement results to a CSV file (compatible with MS Excel and other table processors)
Easy handling and operation, quick system start
Ergonomic positioning of the built-in monitor to reduce user fatigue
Optional expansion by using additional lenses 0.5x, 0.7x
Optional advanced stands, e.g. stand with transmitted light, stand with swing arm (boom stand)
Certification: CE, RoHS
Dimensions including built-in LCD monitor (w x d x h): 52.5 x 29 x 50 cm
Weight: 5.5 kg
Measuring Features
Measurements directly in the live view with the option to save the measurements to the captured images
Choice of units (microns, mm, mils, inches) and number of displayed decimal places
Length of a line segment
Distance of the point from the line
Angle defined by two lines with the possibility of a vertex outside the field of view
Rectangle: dimensions, perimeter, area
Arc: radius, diameter, length, clamped angle
Circle: radius, diameter, perimeter, area
Concentric circles (intermediate circles) – radii of inner and outer circles, their difference and ratio, area of intermediate circle
Polygon: perimeter, area
Distance of the centre of the circle from the point
Distance of the centre of the circle from the line
Distance of the centres of two circles
Central cross and grid display
Automatic snapping to edges in the image
Possibility to choose the color and thickness of lines of measuring objects
Measurement Examples
Video Examples of 3D Observations
PRO-7 3D – technical applications
PRO-7 3D – life science applications
Images Acquired by PRO-7 3D - Technical Application
Images Acquired by PRO-7 3D - Life Science Applications
Examples of Applications
Quality control in production / Testing / Assemblies
Biology / Entomology / Botany
Documentation / Archiving
Education / Presentations
Magnification Specifications
| Objective Magnification | 0.5x (optional) | 0.7x (optional) | 1x (part of delivery) |
| --- | --- | --- | --- |
| Total magnification on 11.6" built-in monitor | 5x - 37x | 7x - 52x | 10x - 74x |
| Total magnification on 24" optional monitor | 10x - 74x | 14x - 102x | 20x - 152x |
| Field of view (diagonal) | 60 mm - 8.3 mm | 43 mm - 6 mm | 30 mm - 4 mm |
| Working distance | 180 mm | 128 mm | 110 mm |
Parts of the Basic Configuration
PRO-7 3D body with 7:1 optical zoom with built-in 1x objective, built-in digital HD camera, built-in computer with measuring software and 12V AC adapter
Ring light illuminator
3D attachment for 3D observation
11.6″ Full HD LCD monitor with mounting arm, HDMI cable and 12V AC adapter
Stand with 32 x 26 cm flat base and a mounting rod of 32 mm diameter
Mouse
USB flash drive
Related Products