PROMICAM PRO 3-3CP
3.1 MP USB 3 CMOS color camera with excellent price/performance ratio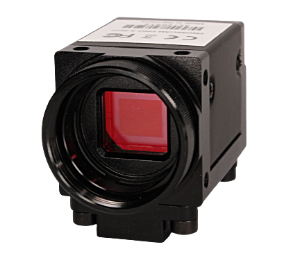 PROMICAM PRO 3-3CP color microscope camera with 3.1 MP resolution is a high performance camera with affordable price suitable for a wide range of applications. Used Sony® Pregius® CMOS sensor provides high image quality, sensitivity and dynamic range as well as low noise and excellent color reproduction.
The sensor uses global shutter, which enables observation of fast moving objects without image distortion. Live view frame rate in full 3.1 MP resolution reaches up to 60 fps.
The camera is fully supported by QuickPHOTO programs and extension modules: Deep Focus, Image Stitching, HDR and RECORD IT.

Suitable for Applications:
Biology / Live Cell Imaging
Moderate Light Fluorescence
Histology / Pathology / Cytology
Metrology / Mineralogy / Metallurgy / Geology
Quality Control / Semiconductor Inspection
Documentation and Archiving
Samples Acquired by PROMICAM PRO 3-3CP Microscope Camera
Images were acquired from Olympus® BX41 microscope and Olympus® SZX7 stereomicroscope with 0.5x C-mount optical adapter.
Technical Specifications
Sensor Specifications
Sensor Type
Sony® Pregius CMOS, color, global shutter
Sensor Size
1/1.8" (7.07 x 5.30 mm)
Sensor Aspect Ratio
4:3
Pixel Size
3.45 x 3.45 µm
Resolution
2048 x 1536 pixels (3.1 MP)
Supported Software
Software
QuickPHOTO in version 3.2 or higher (not included)
Camera Specifications (when used with QuickPHOTO software)
Image Resolutions
2048 x 1536, 1920 x 1080 (Full HD), 1024 x 768 pixels
Live View Resolution@Max. Frame Rate (fps)
2048 x 1536 @60 fps
1920 x 1080 (Full HD - ROI) @90fps
1024 x 768 (subsampling) @200 fps

Lower Resolutions
Subsampling, ROI
Exposure Time
1/40000 s (25 μs) - 4 s
Gain
1x - 251x
Exposure Modes
Automatic, automatic-interactive, fluorescence (SFL Auto), manual
White Balance
Automatic, automatic-regional, manual
Black Balance
Automatic-regional, manual
Camera Characteristics
Interface
USB 3.0 / USB 3.1 Gen 1 (backwards compatible with USB 2.0)
USB connector
Micro B screw lock
Mount
C-mount/ CS-mount
Dimensions
43 x 29 x 29 mm
Weight
65 g
Tripod Mount
1/4" - 20
Recommended Microscope Coupler
0.5x C-mount
Compliances
CE certified, FCC, RoHS, WEEE
Included in the Box
PROMICAM PRO 3-3CP camera, 3m USB 3.0 cable with lock screw connector
Minimum System Requirements
Processor
Intel® Core™ i3 / AMD RYZEN™ 3
Operating Memory
2 GB
USB port
1x USB 3.0 port
Operating System
Microsoft® Windows® 7/8/8.1/10/11 (32bit or 64bit)
Recommended Computer Configuration
Processor
Intel® Core™ i5 / AMD RYZEN™ 5 or better
Operating Memory
8 GB or more
USB port
1x USB 3.0 port
Operating System
Microsoft® Windows® 10/11 (64bit)
Related Products
---
SONY®, PREGIUS® are registered trademarks of Sony Corporation
OLYMPUS® is a registered trademark of OLYMPUS Corp.
Microsoft®, Windows® are registered trademarks of Microsoft Corp.
Intel®, Intel Core® are registered trademarks of Intel Corporation