PROMICAM PRO 4K
12 MP USB 3 CMOS Color Digital Microscope Camera with 4K@30 fps Live View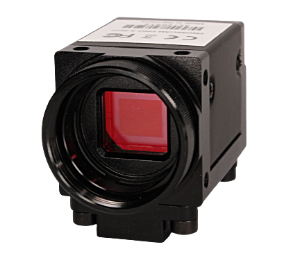 PROMICAM PRO 4K digital camera provides live view with resolution up to 4K, high live view frame rates, increased sensitivity and high-quality images with 12 MP resolution. This camera is suitable for wide range of microscopy as well as macro applications. Sony® STARVIS CMOS sensor with rolling shutter and global reset provides high image quality and excellent color reproduction. The back-illuminated CMOS architecture increases quantum efficiency and reduces read noise for improved sensitivity and dynamic range.
The camera is fully supported by QuickPHOTO programs and extension modules: Deep Focus, HDR and RECORD IT.
Suitable for Applications:
Biology / Live Cell Imaging
Histology / Pathology / Cytology
Metrology / Mineralogy / Metallurgy / Geology
Quality Control / Semiconductor Inspection
Documentation and Archiving
Sample Images Acquired by PROMICAM PRO 4K Microscope Camera
Images were acquired from Olympus
®
BX41 microscope and Olympus
®
SZX7 stereomicroscope with 0.5x C-mount optical adapter.
Technical Specifications
Sensor Specifications
Sensor Type
Sony® STARVIS CMOS, rolling shutter with global reset, color
Sensor Size
1/1.7" (7.4 x 5.6 mm)
Sensor Aspect Ratio
4:3
Pixel Size
1.85 x 1.85 μm
Resolution
4000 x 3000 pixels (12 MP)
Supported Software
Software
QuickPHOTO in version 3.2 or higher (not included)
Camera Specifications (when used with QuickPHOTO software)
Image Resolutions
4000 x 3000, 3840 x 2160, 2000 x 1500, 1024 x 750 pixels
Live View Resolution@Max. Frame Rate (fps)
4000 x 3000 px @30 fps
3840 x 2160 px (4K UHD 16:9 -ROI) @30 fps
2000 x 1500 px @30 fps
1000 x 750 px @30 fps
Lower Resolutions
Subsampling, ROI
Exposure Time
1/20000 s (50 μs) - 30 s
Gain
1x - 22.5x
Exposure Modes
Automatic, automatic-interactive, fluorescence (SFL Auto), manual
White Balance
Automatic, automatic-regional, manual
Black Balance
Automatic-regional, manual
Camera Characteristics
Interface
USB 3.0 / USB 3.1 Gen 1 (backwards compatible with USB 2.0)
USB connector
Micro B screw lock
Mount
C-mount/ CS-mount
Dimensions
43 x 29 x 29 mm
Weight
65 g
Tripod Mount
1/4" - 20
Recommended Microscope Coupler
0.5x C-mount
Compliances
CE certified, FCC, RoHS, WEEE
Included in the Box
PROMICAM PRO 4K camera, 3m USB 3.0 cable with lock screw connector
Minimum System Requirements
Processor
Intel® Core™ i3 / AMD RYZEN™ 3
Operating Memory
2 GB
USB port
1x USB 3.0 port
Operating System
Microsoft® Windows® 7/8/8.1/10/11 (32bit or 64bit)
Recommended Computer Configuration
Processor
Intel® Core™ i5 / AMD RYZEN™ 5 or better
Operating Memory
8 GB or more
USB port
1x USB 3.0 port
Operating System
Microsoft® Windows® 10/11 (64bit)
Related Products
---
SONY® is a registered trademark of Sony Corporation
OLYMPUS® is a registered trademark of OLYMPUS Corp.
Microsoft®, Windows® are registered trademarks of Microsoft Corp.
Intel®, Intel Core® are registered trademarks of Intel Corporation